Dr. Samir K. Brahmachari on the Open Source Drug Discovery project
Written by Beth Noveck and Irene Tello Arista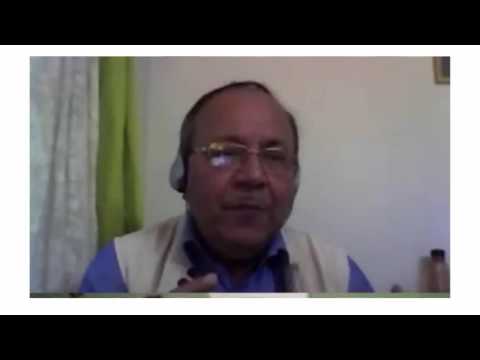 (Here is a link to the transcript of the talk)
In India and around the world, thousands of primarily poor people die every day from tuberculosis. There has been no new TB treatment developed in forty years and resistance to existing drugs is increasing. Because TB disproportionately impacts the indigent, traditional pharmaceutical companies lack the economic incentives to commit adequate resources to so-called neglected diseases.
In response, Samir K. Brahmachari, former Director General of the Council of Scientific & Industrial Research of the Government of India, stood up the Open Source Drug Discovery project in 2008 and continues to serve as its Chief Mentor. In the Open Source Drug Discovery initiative non-professionals are developing life-saving advances in tuberculosis and biomedical research.
At the outset, as he tells in his online presentation to Leveraging the Crowds in the Public Sector –a coaching program designed for public sector teams looking to harness the power of the crowd to tackle public problems– college students, academics, and scientists collected, annotated, and extracted data from the scientific literature on the biological properties and mechanisms of the Mycobacterium tuberculosis (Mtb) pathogen.
When the articles were not freely available online, students wrote to thousands of authors to request a free copy. The genome, says Brahmachari, is like a "beautifully written Shakespearean sonnet, but we don't understand the language or the meaning of it." With vast quantities of data to sift through, OSDD applied the concepts of open innovation and citizen science to accelerate research and test a multitude of hypotheses. In 2014, this citizen science effort began clinical trials for a new experimental drug called Pretomanid at 20% of the cost of a traditional drug.
This video of Dr. Brahmachari is the first in The GovLab Academy Guest Speaker Series, which features leading innovators talking about how they used new technology combined with the techniques of openness and collaboration to produce real change in the world.
Dr. Brahmachari went on to explain that in the second phase of the project, students learned how to make computational modeling of molecules that could be used as targets for new drugs.
OSDD is a remarkable example of what can be achieved when technology is deployed "to build a lever long enough" so people can move the world.
Key Take Aways from the Video
A successful crowdsourcing project requires:
Having a specific and clear task to be performed by the crowd;
engaging those with passion and who are willing to do hard work regardless of credentials;
giving credit and attribution even for micro-tasks;
making a platform smartphone compatible for people who don't own a computer;
creating a competition environment so students check each other's work;
letting groups choose their own leaders and not imposing one;
teaching students valuable scientific research skills as part of the process (learning by doing and doing by learning);
letting students know they were part of a publicly recognized project;
transforming a professional enterprise into an emotional enterprise.
Selected Quotes
The genome sequence is a beautifully written Shakespearean sonnet, but we don't understand the language or the meaning of it.

The crowd needs microleaders.

I have learned one thing: the level of commitment is far more important than the level of intelligence.

Affordable health care is a right for all, there's got to be a balance between business and rights for all.