Introducing Open Gov Stories
By Emily Thenhaus
March 19, 2014
"The world is becoming more open because of all the changes we are witnessing," says Romain Lacombe, Head of Innovation for the French Open Data Task Force, Etalab. "The question from a government standpoint is, 'Do you want to fight it, or do you want to go along? Do you want actually harness those forces and this tremendous power to the benefit of your citizens?'".
This week The GovLab Academy launched Open Gov Stories, an oral history video series which captures the stories of open government innovators like Romain and their efforts at harnessing technology and open innovation around the world to solve public problems.
Funded by a grant from the John S. and James L. Knight Foundation, this first series of Open Gov Stories includes fifteen global open government innovators working on powerful, diverse projects that advance openness and transparency in their own countries. Projects include collaborative innovation in Finland, publishing open financial data in the Philippines, developing tools to show the relationships between politicians in Kenya and Chile, and open innovation challenges using open data in France and Montenegro. Created together with the Open Government Partnership (OGP), an international federation of about 60 countries, these stories were collected at the OGP summit in London in the fall of 2013 in a recording booth designed by our production partners, Lightweight Media.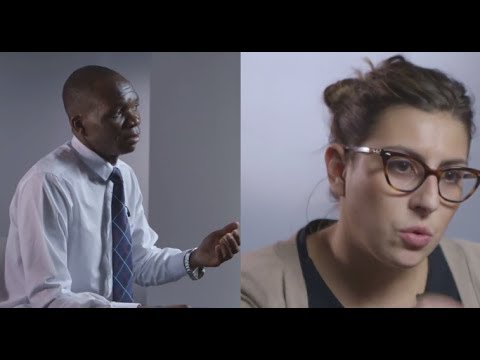 Spanning Africa, Asia, Europe & Latin America, the Open Gov Stories describe the powerful impacts that these projects have had in a wide range of countries. Several of the changemakers we talked to were also interviewed for our "Howcasts," short videos where they describe how they designed their projects and the lessons that other innovators can learn from.
"Open Gov Stories enriches the curriculum of the GovLab Academy, our Knight-funded project to develop comprehensive online resources on the different aspects of opening governance," says Beth Noveck, Founder and Director of The GovLab. "Open Gov Stories operates as an integral part of the Gov Lab Academy, a free online community for those wanting to teach and learn how to solve public problems and improve lives using innovations in governance." Launched in conjunction with the 2013 OGP Summit, the Academy offers curated videos, podcasts, readings and activities for practitioners to learn new skills and get inspired by others in this field.
"People in Liberia, in Finland, in Spain, the Philippines, and all over the world are participating in this new kind of activism that opens up government for the good of the community," says Joel Gurin, Senior Advisor at the Gov Lab, Director of the Open Data 500 and author of the new book, Open Data Now. "The videos are compelling and inspiring in their own right. Together with the GovLab Academy's other resources, they help provide a roadmap for open government activists anywhere".
"Stories are a powerful resource for communicating the value of open government and providing examples that show its impact" says Cosmo Fujiyama, The GovLab Academy fellow. "In the future series Open Gov Stories , we aim to include more voices including city officials in the US who are working to improve their communities with innovative, collaborative solutions."
View Open Gov Stories at : thegovlabacademy.org/opengovstories
The Tags: Crowdsourcing . OGP . Open Data . Open Gov Stories . Open Governance . Open Government Partnership . oral history . Video