The Rise of the "Peer Progressive"
On Monday September 24, author Steven Johnson discussed his new book Future Perfect: The Case For Progress In A Networked Age at a Personal Democracy (PDM) event moderated by Micah L. Sifry, PDM co-founder and editorial director.  The event was part of Social Media Week. On the panel were: Beth Noveck, former White House deputy Chief Technology Officer (see Beth's TED talk in previous post); Tina Rosenberg,  author of Join the Club: How Peer Pressure Can Transform the World and Clay Shirky, NYU Professor of Interactive Telecommunications (see Clay's TED talk in previous post).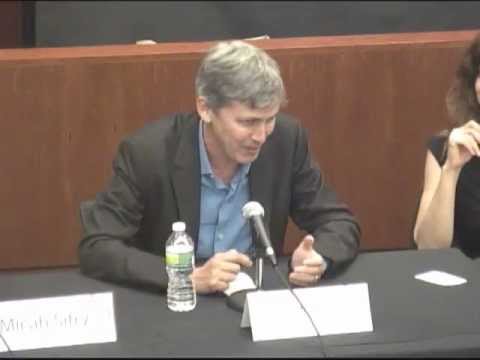 In his new book Johnson coins the term "peer progressive" to describe (quoting Kirkus Review) "an outlook that favors building the kind of society where power is distributed more or less equally among a self-regulated network of peers, who are free to contribute to the greater good according to where their strengths lie". (Think crowdsourcing writ large.) He distinguishes "peer progressives" from both libertarians and liberals. "The former have too much faith in markets and too little in government, he says, and the latter vice versa. Peer progressives, though, believe that good can be accomplished by all organizations, in any combination, if they harness the power of peer networks (see the WSJ review on the book)". Accompanying the launch of the book is a video from Johnson where he describes the key ideas.
Throughout the event – according to Nick Judd's write up – "Johnson, Rosenberg, Noveck, Shirky and Sifry took turns hacking away at this idea of a "third way," one that is not a moderate compromise between a market-driven politics and a state-driven one so much as it suggests a more decentralized model for concentrating and distributing wealth and resources".
The Tags: Citizen Engagement . De-centralization . New Research