Toward More Inclusive Lawmaking: What We Know & Still Most Need to Know About Crowdlaw
On June 2, The GovLab Academy hosted its first online unconference bringing together leaders and practitioners of crowdlaw (i.e., crowdsourced development and drafting of legislation and/or constitutions). The goal of the session was to begin a dialogue between practitioners around establishing best practices for crowdlaw and to share what's worked across the globe in an effort to assess impact and inspire great innovation. If you missed it, you can watch the full video of the online session here: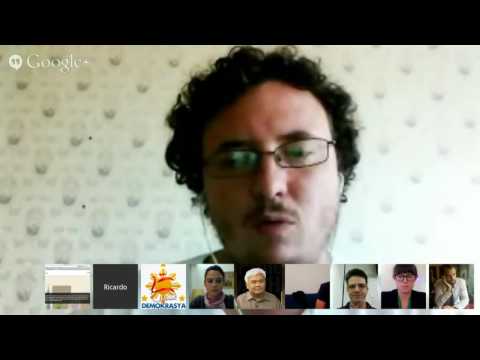 You can also see all of the Tweets from the session via Storify here:

On June 16, The GovLab will convene a second set of innovators, including those working on crowdlaw projects in Chile, the United Kingdom, the European Union, Libya, and beyond, from 9:30 am – 11:30 am EST (to better accommodate those in European time zones). For the full list of second session participants, see our participant list below. You can RSVP for Session 2 here.
What Did We Learn?
Featured Session 1 Presenters & Projects
During this first session, platform developers, government officials and employees, lawyers and activists from five different countries (Brazil, Argentina, the Philippines, Mexico and Italy) shared insights on what they've learned and seek to learn to do better to promote the institutionalization and legitimacy of crowdlaw initiatives going forward.  The session kicked off with brief presentations from crowdlaw leaders, including:
Sarah Aguilar Flaschka and Mexico City Senator Mario Delgado discussed their work with Wikiconstitucion in Mexico City, which aims to activate citizens to help participate in drafting the first local constitution for the city. The team presented their initial platform for convening the online, citizen-drafting community. They spoke of their work to create an online library for public consultation of the presidential forums held in the Senate during which constitutional topics have been debate. The team also noted they are currently working to identify the best technological platform to help harness and sustain participation in the actual constitution drafting.
Ricardo Augusto Poppi Martins from the General Secretariat of the Brazilian Presidency, a ministry responsible for social participation and social movements, spoke next about participa.br, a digital platform bringing together input and ideas from citizens, government officials and civil society. In particular, Ricardo spoke about a recent initiative, which used the platform to gather citizen input on the democratic future of the Internet in light of the recent NETMundial global convening on Internet governance. The platform offered survey questions to citizens and allowed for citizens to select answers, submit their own, refine questions, and ultimately contributed to a crowdsourced report of ideas for the future of Internet governance as prioritized by those Brazilian citizens who participated on the platform.
Cristiano Ferri Faria from the Hacker Laboratory – an emerging hacker space in the Brazilian House of Representatives – spoke next about his work on the e-Democracia Project in Brazil, which was created to facilitate crowdsourcing in lawmaking. Cristiano highlighted some of the platforms features, noting that it allows citizens to discuss substantive issues and ideas for lawmaking without any restriction or moderation. He noted the platform also offers a place to form virtual communities around specific issues and topics, in order to:

inform interested representatives who want to get citizens involved in initial brainstorms (via a forum);
provide a place for representatives to share videos speaking to and responding to citizens about the substantive topics being discussed on the platform; and
allow citizens to comment on and submit specific article proposals for inclusion in the legislative text via a wiki.

Cristiano spoke of some successes using the platform, e.g., a Civil Rights for Internet Users bill that was passed into law, incorporating and referencing citizen input captured on the platform.
Pierre Tito Galla and Francis Euston Acero from the Philippines followed next, speaking about their grassroots efforts on the Democracy.Net.PH initiative, which produced a crowdsourced Magna Carta for Philippine Internet Freedom in response to the passage of an anti-cybercrime law that many feared would have a chilling effect on online speech. Out of disappointment in their elected officials, Francis noted that the team of activists and bloggers collaborated on drafting a piece of legislation that created what they felt was a better balance between security and civil rights. They initially posted a draft of the bill to Google Docs and shared via Facebook to get others involved and contributing the bill.
Pia Mancini presented her work with Net Democracy, a foundation that developed a free open source web app called Democracy OS to combat a crisis of representation within our political system – a system that Pia noted currently tends to produce only either "silence or noise." Pia stressed that the Democracy OS initiative embraces both an on- and off-line component. The online portion allows citizens to easily get informed about existing debates on hot topic legislative issues without having to decipher "cryptic" legislative language; debate perspectives and share opinions; and up- or down-vote how they want their elected officials to vote. Pia specifically highlighted how Democracy OS could be used to discuss and debate emerging projects like the Magna Carter for the Web project and how the government of Mexico used the platform to enable discussion on the country's open data policy. She mentioned as well as a Democracy OS pilot run in Tunisia to get deeper participation in the debate on developing a constitution. As for the offline component of this crowdlaw initiative, Pia highlighted the importance of not just implementing new online tools and platforms for citizen consensus-building on law and policies – but also of creating a means for communicating and absorbing that citizen input into our existing institutional systems, e.g., via establishment of a partner political party or direct engagement with civil society groups.
Giuseppe Della Pietra, advisor to the Minister for Constitutional Reform in Italy and Donatella Solda and Damien Lanfrey spoke about their team's efforts on Partecipa! in Italy – a three-layer, sequential public consultation initiative that aimed to legitimize constitutional reform efforts in Italy by fostering new channels for and encouraging greater and more meaningful citizen input into the process. The team explained that the first layer of the initiative offered a simple survey with questions on trade-offs around eight themes for the constitution, designed with help from statisticians and research method experts to reach any and all citizens, and to enable the gathering of data to access and monitor engagement. The second layer encouraged those who had participated in the first questionnaire to dive deeper on a more complex set of questions. Finally, the third layer offered an opportunity for proposal gathering and development, and did so in an offline manner by engaging schools and other public ministries to debate constitutional topics in person and share their insights back with the team. They highlighted that about 200,000 questionnaires were completed and validated and that they actively engaged national media in outreach on the effort.
Key Takeaways
Following the presentations, the session devolved into discussion and a Q&A with the viewing audience around four themes:  
Design: What makes for successful crowdlaw projects: what works, what doesn't?
Incentives: How to encourage people to participate?
Impediments: What are the legal, cultural, technological and other obstacles?
Metrics: How to measure what works and demonstrate both legitimacy and effectiveness?
Some of the key lessons shared and learned along these themes include:
Design
While catalysts (e.g., revolution) do help to motivate both deliberative and participatory processes – they shouldn't be perceived as a necessity for crowdlaw.
Encouraging crowdlaw pilots and iterations around non-polarized topics (such as what's been done over five years with e-democracia in Brazil) may help encourage acceptance of crowdlaw and provide time to shift the political, social and bureaucratic focuses toward acceptance.
Effective crowdlaw initiatives can take many forms and serve different, but equally important purposes, including:

information sharing to inform drafting;
using the crowd to improve text;
open up drafting to educate citizens; and
to  building a movement to back popular or combat unfavorable existing legislation.
Depending on the particular goal, different tools and features may be more desirable or useful than others. In addition to the robust platforms created and/or described by presenters, other tools highlighted during the session included:

Google Docs and wikis as resources to contribute and comment on drafting; and
Google Moderator and Loomio as tools to support debate and consensus-building.
Have ideas for other tools and platforms? Share with us in the comments or with @TheGovLab on Twitter using #crowdlaw.

Designing crowdlaw initiatives in phases or stages offers benefits. Stages of participation that vary in task competency and complexity have served as a way to attract and then sustain participation around complex or nuanced topics.
Incentives
Thinking about incentives cannot be an afterthought. In a number of countries at present, few frameworks exist for crowdsourcing lawmaking or for providing citizens with direct participation opportunities in lawmaking. Moreover, legislation and constitution drafting isn't immediately accessible and attractive to a general public, especially given that the value of public contribution has not yet been widely demonstrated. Therefore, incentives have to be built-in up-front to teach, attract and sustain meaningful engagement.
  Impediments
Resistance from elected officials. Representatives may not be immediately interested in participating actively in and/or leading crowdlaw initiatives; some fear enhanced participation in lawmaking could make the process more confusing or complex.
Aligning crowdlaw initiatives with political priorities and schedules. Momentum swings in the political agenda can negatively affect sustained participation and engagement in crowdlaw projects.
Participation is expensive. Not just in terms of the cost of building the technology, but also the cost of sustaining the process.
  Metrics
Metrics should be contemplated during the design stage of crowdlaw projects. This helps ensure that engagement and contributions can be monitored, analyzed and iterated upon.
The state of the crowdlaw movement makes honest discussion around metrics difficult. So many want to encourage the piloting and adoption of these types of projects within an already resistant political or legal system; therefore, frank discussion around failures seems less enticing. However, learning about what doesn't work and why can promote successes and best practices going forward, so the conversation is a critical one to have.
What Can We Look Forward To?
Planning is in the works for our second session on June 16, 2014 from 9:30am-11:30am EST.
Possible Participants for this session include:
Dr. Kathy Alexander, City of Melbourne CEO – Future Melbourne
Francesca Bria, Innovation and Entrepreneurship Group, Imperial College London – D-CENT project.
Natalia Carfi*, O

pen Government and Participation Coordinator for the Chilean government 

 – Chilean Government's 

citizen consultation

 platform.

 
Sean Deely*, Deputy Director of the Postwar Reconstruction and Development Unit (PRDU), University of York, and formerly a Senior Recovery Advisor for the United Nations in Libya – civic engagement and Libyan constitutional reform.
Assemblyman Mike Gatto of Los Angeles – California Wikispaces Initiative.
Richard Gordon QC, Brick Court Chambers, Professor Carol Harlow, London School of Economics and Associate Professor Dr. Lea Ypi, London School of Economics – ConstitutionUK

.

Harry Halpin*, W3C Fellow and Juliet Lecchini, the

 Web Foundation Lead Magna Carta Program 

Manager

  – the Internet Magna Carta Project.
New York City Council Member Dan Kallos – working to crowdsource two open data bills (here and here) using Madison. 
Alexandra Kazantseva*, Chief Trouble Hacker for HackACause.org  – discussing crowdlaw.org (@CrowdLaw_) based in Guernsey, Channel Islands (UK).
Finnur Magnusson, Former Chief Technology Officer of Constitutional Council in Iceland – 

Icelandic Constitutional Reform Initiative

Tiago Peixoto

, Open Government Specialist, The World Bank

Johannes Pichler, University of Graz – A proposed European Citizens' Open Senate Online.

Joonas Pekkanen, Founder and Chairman of Avoin Ministeriö – Finland Open Ministry.
Adi Safra, Israeli Prime Minister's Office – A Crowdsourced Declaration of Human Dignity in Israel.
*  – confirmed participants.
To join in as part of our viewing audience to learn from crowdlaw leaders and ask questions on June 16, please RSVP here. You can also follow all of our crowdlaw practitioners and leaders by subscribing to The GovLab's Crowdlaw Twitter list.
If you have ideas for other practitioners, crowdlaw projects, and/or topics we should focus on in Session 2 (or Session 3 if interest warrants), share them in the comments below or @TheGovLab on Twitter, using #crowdlaw. Also please send ideas our way for how The GovLab can support this nascent crowdlaw movement going forward.
The Tags: CrowdLaw . Crowdsourcing